Hello Guys !!
I want to introduce one of my favorite shop named COCO STORE. They are Asian store.
They
sell korean fashion women clothing , shoes , and bags.
They have really adorable stuff. And of course with a great price :)
Another good news , they shipping worldwide without minimum order. Isn't it great ?
( psttt they have many special offer such as discount :D )
And here's some pictures of my favorite stuff from COCO STORE...
I really Love the color of this bag !! <3
And this dress super Lovely !!! <3
So Ladies what are you waiting for...
Go Shopping at COCO STORE :D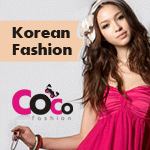 Tamara Emilia
xoxoxo